Intracell Nutrition Inc.
::
Elliott Goodman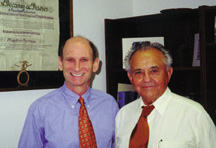 Foodform® Vitamins and Minerals were invented by Andrew Szalay. Andy got his degree in pharmacy at the University of Szeged in Hungary. Albert Szent-Gyorgy, the Nobel Laureate who discovered Vitamin C, was a member of the faculty and was a strong influence on Andy. After coming to the USA in...
---
Is it possible to slow down the aging process and delay the onset of disease? Research is being done to gain a deeper insight into the causes of the processes of aging, disease...
---