Studies Show Your Body Wants Foodform
®
Foodform® Vitamins and Minerals
May Be Better Absorbed, Retained, and
Utilized Than Isolated USP Vitamins.
Over 60 studies* have compared Foodform to ordinary (USP) vitamins and minerals in absorption, retention, utilization and toxicity. Studies were performed by independent researchers at NJ College of Medicine and Dentistry, University of Scranton, and other institutions.
We're proud that studies on Foodform vitamins and minerals have been published in prestigious, peer-reviewed scientific and medical journals such as Diabetes and The American Journal of Clinical Nutrition.
To view a technical bulletin (#S-13) which presents the results of many individual vitamin and mineral studies click here.
"Absorption" (or bioavailability) measures how efficiently the vitamin is absorbed into the blood. The results are expressed as the relative increase over baseline in the blood. "Retention" measures the relative increase in the amount stored in the liver. Utilization studies examine known functions of a vitamin or mineral to see how the Foodform® nutrient performs the job compared USP.

• In a human study, at 2 hrs the relative increase of vitamin C in the blood was 5 times greater for Foodform C than for ascorbic acid.

In a human study, Foodform Vitamin C lowered blood triglycerides an average of 16% and increased lag time before lipid per-oxidation (process of plaque formation) by an average of 29% compared to no change with ascorbic acid.
• In retention studies, Foodform Niacin was 3.9 times more absorbed and 70% more retained.
• In human studies, Foodform B-12 was 1.9 times more absorbed in a few hrs; 66% more after 24 hrs. In retention studies Foodform® B-12 was 256% more absorbed and 60% more retained.
• In human studies, at 2 hours Foodform E was 6 times more absorbed than USP. In retention studies, Foodform® E was 2.6 times more retained in the liver.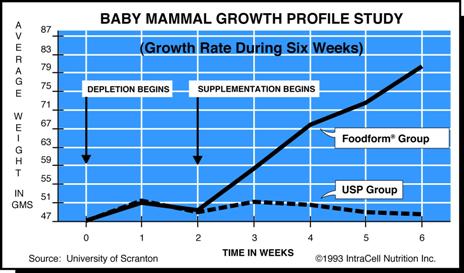 Baby Mammal Growth Profile Study
- Two groups of baby mammals were depleted and then supplemented with equal potencies of Foodform and USP vitamins and minerals. The USP group had poor growth and a rapid decline in health. The Foodform group had normal, healthy growth rates for the baby animals. This shows Foodform nutrient's ability to support life.
*This information is intended solely for informational and educational purposes, not for medical advice. IntraCell Nutrition strongly recommends that consumers consult a physician for health problems or questions they may have. These studies may not conform to peer review standards. Therefore, the results are not conclusive.