Intracell Nutrition Inc.
::
MULTIVITAMINS
:: Empower®
---
Empower®: Features
Both a Multivitamin and B Complex Combined.
Over 20 years ago, some people told us they wanted a Foodform multivitamin but couldn't handle the 6 tablets per day suggested for Manna®. They said, "Give us your best shot in 2 tablets." So we developed Empower. It's also a lot less expensive than Manna.
If you want high-end nutrition on a budget, or you simply don't want to take more than a couple of tablets a day, Empower is designed for you. It's the most Foodform nutrition we can fit into 2 tablets per serving.
Empower emphasizes the B vitamins. Two tablets provide 300% of all the B complex vitamins. You can use Empower as your B complex or your multivitamin supplement.
If you are like most people, you probably don't eat large amounts of fresh vegetables and whole grains. You are probably deficient in B vitamins, especially if there's stress in your life. Your depleted cells will quickly soak in these highly-absorbable Foodform nutrients. Then you will know why it is called Empower.
Empower will make an amazing difference in how you feel by giving you the vitamins and minerals you need most, in their most absorbable form. Taking Empower everyday will make a major change for the better in your lifestyle.

Key Features
• 100% Foodform

Unlike ordinary vitamins and minerals, Empower nourishes every cell in your body because it contains only whole foods and whole food concentrates, including next generation lactobacillus cultured minerals.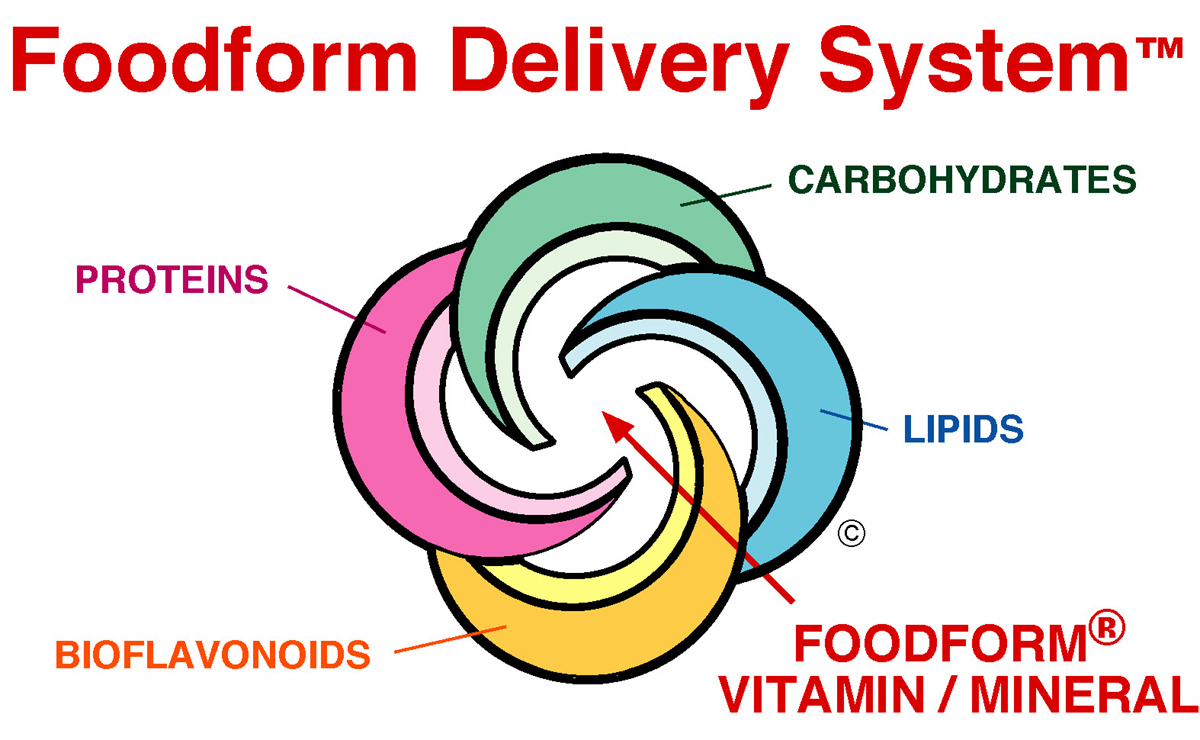 • 100% RDA Of Most Vitamins and Minerals

Empower has at least 100% RDA of all vitamins and most minerals in just 2 tablets.

• Emphasis On The B Complex Vitamins

Empower has 300% of all of the B Complex vitamins.

• Only Two Tablets Per Day

Empower gives you the most possible Foodform nutrients in two tablets.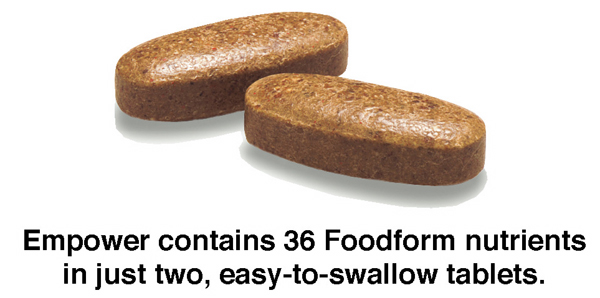 • Most Economical Foodform Multivitamin

When purchased in the 120 tablet size, a month's supply of Empower is only about 1/2 the cost of Manna.

• Ingredients Proven Effective In More Than 60 University Studies

The ingredients in Empower have been tested by independent researchers in more than 60 university studies which show they are better than regular (USP) vitamins and mineral salts.

• Does Not Have To Be Taken With Meals

Empower is so naturally-acceptable to your body you can take it all at once, whenever it is convenient. There's no upset stomach.

• Only 4 Calories Per Tablet

You would have to eat a huge volume of food to get the nutrition of just 2 tablets of Empower. Yet it contains only 4 calories per tablet.

• Slow-Speed Tableting Method

Slow-speed tableting process virtually eliminates the need for excipients (inactive ingredients). Using high speed machines would be cheaper, but we don't want to compromise the purity of this natural product.

• Contains Foodform Glutathione

Provides the ultimate defense against free radicals and toxins. Unlike the glutathione in all other supplements (synthetic L-Glutathione), Foodform Glutathione is whole food. Scientific studies show that only glutathione as found in whole food is effectively utilized.