Intracell Nutrition Inc.
::
ANTIOXIDANTS
:: Foodform® Vitamin C-300
---
Foodform® Vitamin C-300: Features
The World's Most Effective Vitamin C Supplement.
When Albert Szent Gyorgie discovered vitamin C in the early 1900's (for which he won the nobel prize), he said plant concentrates worked better in the body than the ascorbic acid he had isolated. He said there are factors that are a part of the vitamin C in food that are lost when it is isolated, and without them, it is less effective.
Vitamin C in food is in a matrix of proteins, bioflavonoids and other factors. In order to restore its maximum functionality in the body, Foodform Vitamin C is integrated into a citrus matrix of native proteins, carbohydrates, fibers, and natural-form bioflavonoids.
Foodform Vitamin C has been shown to be better than ascorbic acid in independent university studies comparing absorption, retention, antioxidant strength, cataract prevention, plaque prevention in the arteries, triglyceride lowering functions and other studies.
Ordinary Vitamin C Is Chemicals. Vitamin C supplements are pharmaceutical chemicals such as ascorbic acid, mineral ascorbates, and "esterfied" C. Most is rejected by the body into the urine and can have serious side effects including diarrhea and damage to DNA. Some manufacturers mix ascorbic acid with dried oranges, rose hips, or acerola to appear natural. But it is unchanged and doesn't fool your body. Your body wants vitamin C the way it is in food.
Foodform Vitamin C is rich in natural-form bioflavonoids. Ordinary vitamin C has isolated, denatured bioflavonoids or "citrus bioflavonoid complex." The word "complex" means no amount of bioflavonoids is claimed. Foodform Vitamin C has bioflavonoids in naturally-occurring forms. The actual amount is on the label and verified by assay of every batch.
Foodform Vitamin C won't upset your stomach. Like vitamin C in natural foods, Foodform Vitamin C is not an acid. You can take it anytime, even in large amounts, with no upset stomach like you get with ordinary vitamin C.
These are some of the reasons why Foodform Vitamin C is recognized as the world's finest. Let it go to work to strengthen your body's defenses and maximize on your health.

Key Features

• 100% Foodform®

Unlike ordinary vitamin C, Foodform Vitamin C nourishes every cell in your body because it is in citrus concentrate. It does not contain any synthetic chemicals such as ascorbic acid, mineral ascorbates, esterfied vitamin C or any phony rose hips or acerola ingredients.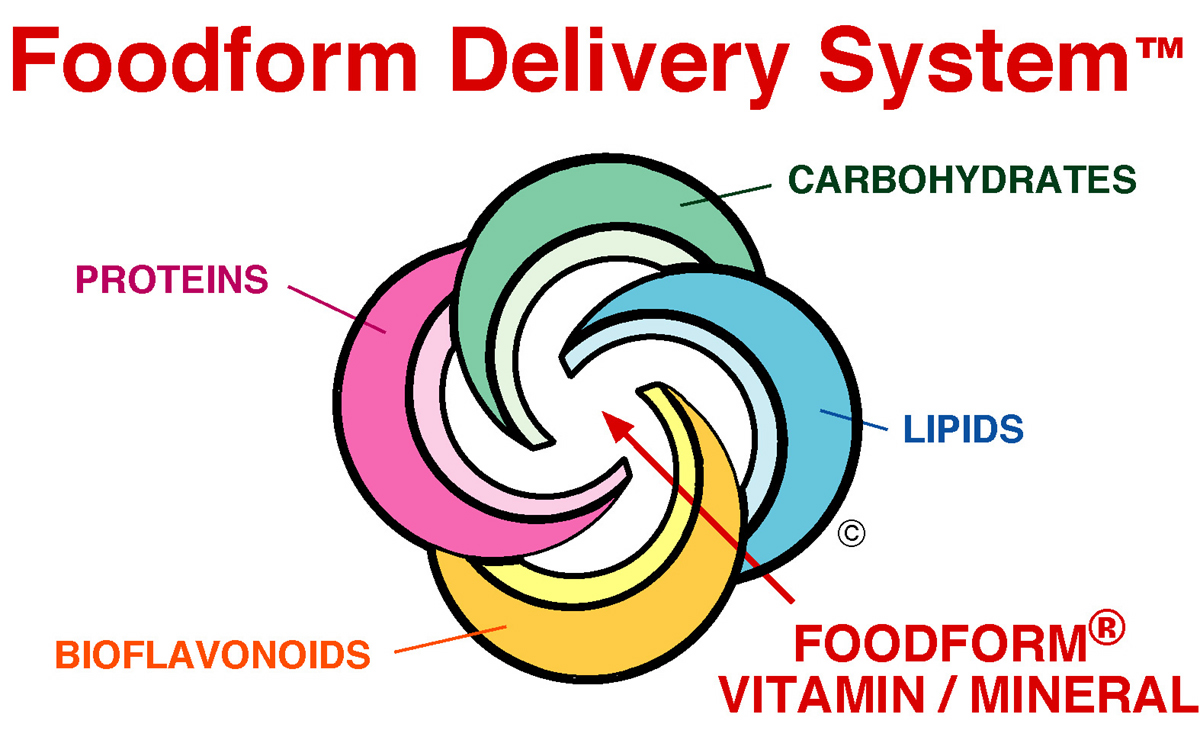 • Rich In Natural-Form Bioflavonoids

Foodform Vitamin C has high amounts of bioflavonoids in naturally-occurring forms. The actual amount is on the label and verified by assay of every batch..

• Ingredients Proven Effective In Numerous Independent University Studies

Foodform Vitamin C has been tested by independent researchers in many independent university studies which show they are better than regular vitamin C. In one published random, double-blind placebo study, 3 tablets of Foodform Vitamin C lowered triglycerides 16% and delayed plaque formation by 29% compared to no change in triglycerides or plaque protection for the ascorbic acid group. Studies on Foodform Vitamin C have been presented at universities around the world and published in The Journal of The American Diabetes Association and The American Journal of Clinical Nutrition.


• Does Not Have To Be Taken With Meals

Foodform Vitamin C is so naturally-acceptable to your body you can take it all at once, whenever it is convenient. There's no upset stomach.

• Only 3 Calories Per Tablet

You would have to eat a huge volume of food to get the vitamin C content of each tablet of Foodform Vitamin C. Yet it contains only 3 calories per tablet.

• Slow-Speed Tableting Method

Slow-speed tableting process virtually eliminates the need for excipients (inactive ingredients). Using high speed machines would be cheaper, but we don't want to compromise the purity of this natural product.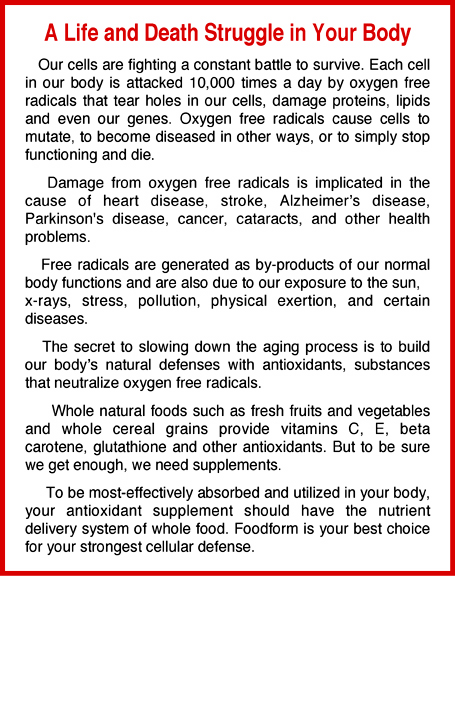 This information is intended solely for informational and educational purposes, not for medical advice. IntraCell Nutrition strongly recommends that consumers consult a physician for health problems or questions they may have. *These studies may not conform to peer review standards. Therefore, the results are not conclusive.